FISCHER Newsletter
Always up to date and personally committed
welcome to this year's first edition of the FISCHER-Newsletter. This time, we have a number of new products that we would like to introduce to you on this occasion. Learn more about:
- EU05: Our new parameterisation kit is with and without battery pack available.
  The transmitter PC interface allows a communication between measuring instrument and laptop.
- EA16: The Measured Value Display with touch function is meant for the panel installation.
In addition to our new products we would like to inform you about our Calibration Service.
Please send us your questions or wishes concerning our product innovation to newsletter@fischermesstechnik.de.
We hope you enjoy reading this online newsletter.
Your FISCHER Team

EU05 Transmitter PC Interface
The compact construction combines different functions. The EU05 is available as an option in execution with or without battery, so the devices can be applied self-sufficiently on-site for parame­terizing our measuring instruments. Power supply is possible via the already existing voltage supply at the measuring device or otherwise by a sepa­rate power supply unit.
Adapters are applicable for three-wire devices with LED and LCD display via the software modules FERNPARA and TRANSPARA. The new adapter provides access to almost all devices of our device pool. In our datasheet you can find a corresponding listing. There are several options available for power supply.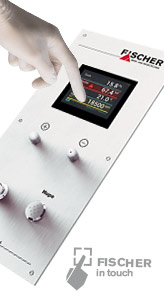 EA16 Measurement Indication Unit for Transducers
with analog output signals for current or voltage according to IEC 60381. Up to four transmitters can be connected in two- or three-wire circuit. The EA16 is suitable for being installed in FISCHER panels. A typical application is monitoring room parameters in clean rooms.
Characteristics:
- 3,5 Zoll TFT Touch LCD colour display
- Configurable colour switching
- 2 or 4 channel mode
- Micro USB interface
- Optional data logger function with data storage on Micro SD card
- Integrated acknowledge function for warning signals
- Complete adjustment of all parameters and measuring point protocol are possible via PC software
Our Project Manager is available for a detailed consulation regarding our products and solutions:
Mr. René Sander, Reinraum / Clean Rooms
Phone: +49 5222 974-162
Email: rsander@fischermesstechnik.de

Calibration Service
Depending on their range of application, demands on measuring instruments are different. Regular maintenance and inspection of devices help you to provide evidence for your devices are fully functional and your process is ideally monitored.
We provide our service at both our in-house laboratory or your premises.