FISCHER Newsletter
Always up to date and personally committed
It gives us great pleasure to present to you the new FISCHER-Newsletter today. FISCHER offers a wide range of products for many areas of application such as pressure, differential pressure, filling level, flow and temperature and this also in connection with OEM solutions.
If you have any requests or suggestions please do not hesitate to contact us via newsletter@fischermesstechnik.de.
We hope you enjoy our online news!
Your FISCHER–Team

FT61 New long-term stable temperature and humidity sensor with LCD for non-aggressive gaseous media
The digital humidity and temperature device is ideally suited for measuring moisture and temperature of non-aggressive gaseous media. For the monitoring process the sensor unit can be used separately or integrated in a clean room panel.


The measuring device comprises a display unit and a sensor, which transfers the measured data via I²C bus to the display. Both units can be displayed at the same time or alternatively. The measuring ranges for humidity are between 0…100 % r.F ± 3 % and for temperature between: -40…100°C, ± 0.5°C.
The standard signals 0…10 V, 0… 20 mA und 4…20 mA are available for the analogue outputs.
Please find hereafter the important features:
Capacitive humidity sensor, electronic temperature sensor, long-term stable without calibration, high repeatability, LC display with colour change of backlighting as clean room signal light, user prompt in clear text, in-situ calibration or adjustment, integrated control unit / zeroing and setting without PC, password-protected, industry standard analogue output, rugged and constant sensor type out of VA (stainless steel) material, protection IP65 standard housing.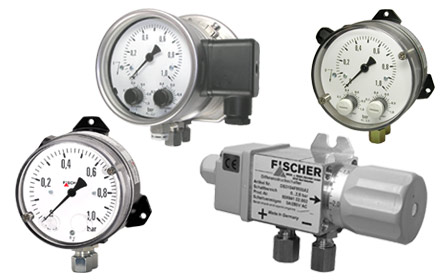 Mechanical differential pressure switch
At this point we would like to draw your attention to our special devices from our existing product range. Those are indispensable for varities applications. FISCHER provides an extensive product line und different approvals.
Characteristic properties:
High overpressure protection due to diaphragm measuring system, hub fixed depending on the device to 1 million strokes and more. For indicating devices there is a separation of switch contacts and movement. This means in comparison to the spring-tube elements the switching function can be guaranteed if the display unit will not indicate. Particular devices are optional available with adjustable damping behaviour for pulsating pressures.
Different ranges of functionality – selection of devices down by series:
DS11 and DS13 with two contacts with and without indicator
DS21 expanded to DS11 with component testing and different approvals (EAC, GL, FS, SIL, RMRS, ATEX)
DA12 as indicator device
MS10 interpreted as vacuum circuit, completely welded
DS31 with one switching contact, adjustable via one setting knob with sideways fixed chart of swiching points
Typical application:
Filter and flow monitoring (flow in conjunction with a robust orifice plate), hydraulic systems, heating and chamber furnace plants, cooling lubricant monitoring, thermal oil units in connection with capililary lines.

Homepage
After approx. one year of preparation, our new homepage was relaunched at the beginning of August 2014. The new internet page is fresher, more modern and mobile reachable at any place.


The web design is optimized for smartphones and tablets, this means that the scrolling from the left to the right side does not apply. All data will be displayed in one column. A further advantage will be the shorter loading time. With only one click then you have access to the appropriate data.
Via the "contacts/export" tab you will find your responsible contact person in our back office and the export representatives. Our distributors in several countries can be found under the tab "worldwide sales".
On our product side you will find all necessary data at first sight. On the second page you will find further information and documents.
If you do not find the required information immediately, you can search via our search engine, which is placed on top at the right corner of the website. The search will not only check the site, but it also will search in PDF documents.
Of course, further documents, broschures, flyer and software programs are available for download.