Safety Laboratories
Accurate Control and Monitoring – with FISCHER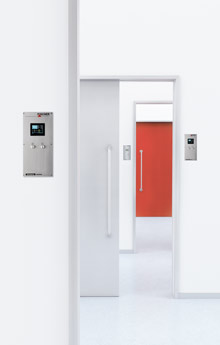 Safety laboratories are spaces in which biological or potent genetic materials (particularly micro-organisms) are researched, developed or produced. These spaces are subject to biomaterial regulations and / or genetics safety regulations.
In accordance with these regulations, spaces are classified in one of four security grades - from S1 to S4. If an airborne infection can occur, the spaces and the upstream air-locks, showers, etc. must be held under controlled vacuum conditions. It may also be the case that a disinfection of the rooms with hydrogen peroxide or formalin is mandated, making it necessary for suitable isolation devices to be installed around the measuring instruments.
FISCHER has developed special measuring instruments, isolation devices and room pressure sensors for application in safety laboratories.
Please download the current FISCHER Booklet for Clean Room Technology as PDF.
The print version is available under the heading Downloads/Service.